Highlife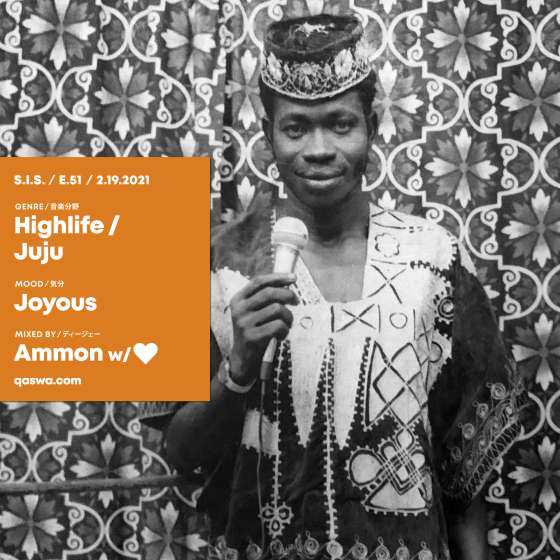 Download
Shelter day 336, February 19th, 2021—installment 51 of live-streamed, all-vinyl DJ sets during the COVID-19 pandemic.
West African Highlife is one of my all time favorite music genres. Joyous and carefree, yet deep and layered — the music is created for dance, but is also intellectually rewarding. The music style originated in 19th century Ghana when under colonial rule — local, traditional music influenced by European sounds and ideas. In the early 20th century, the music was again infused by "the west", this time coming from the Swing and Calypso sounds of the Caribbean and the US — coming full circle as much of the music comes from the slaves of Ghanan heritage. Listen to SIS 29 - Routes of Slavery for more on the musical influence of the slave trade.
Most of the music in this mix is considered Igbo Highlife and blends the traditional Nigerian Igbo music with Ghanan Highlife. One of the key characteristics of Igbo Highlife is the 2/3 clave rhythm, a signature of Afro-Cuban music.
SIS 52 chronicles the HipLife genre — the next evolution of Highlife as contemporary pop music of the region.
Enjoy!

Tracklist
Chief Commander Ebenezer Obey & His International Brothers - Ajoyio
Pat Thomas & Ebo Taylor - Wompe A, Obi Pe Me
Gentleman Mike Ejeagha & His Premier Dance Band - Udo Ka Mma
Ali Chucks & His Peace-Makers International - Late Celestine Ukwu
Ugbo & His Philosophers Dance Band Of Urhoniegbe - Iyesogie
Ugbo & His Philosophers Band - Eyuya
Professor I.K. Belemu & His River Brothers Band Of Torugbene - Ede Pere
Ugbo & His Philosophers Dance Band Of Benin - Agbon Laho
Posted
Feb 19, 2021
Tagged
Share