Burning Man
In 1995 some friends invited me to Burning Man. I thought it was an overnight rave, so I grabbed a backpack with a change of clothing and my Super8 camera. It wasn't until we entered Nevada that I realized I was going to a week-long festival in the desert. With no food or shelter, and minimal supplies, I lived off the kindness of friends and strangers.
We were a part of the Wicked Sound System dance community, bringing the first DJ sound system to the event. At that time, the music selection at Burning Man was very diverse with live bands (many acoustic) and performance artists dominating the entertainment. Following the first all-night Wicked party, we were asked to move our camp far away so people could sleep—a notion that seem ridiculous today. In 1995, less than 4000 people attended Burning Man, and the event was situated in the very center of center of Black Rock Desert, unlike today where it sits in the corner of the playa (desert). The general lack of rules and boundaries made it an interesting experiment in anarchy and unbounded freedom.
The film below is unedited—straight from the camera. I only brought two 3.5 minute rolls of film with me (one color and the other black and white), so I preserved film by capturing scenes with short recording—like moving photos. I cut out some under-exposed night footage, but the rest is how I shot it. The music is from a favorite 1995 chillout album by Subsurfing called Frozen Ants.
The story below was originally written for Shift Magazine, Japan, and captures some thoughts following my 1997 visit to Burning Man.
The definition of anarchy is, "a state of society without government or law". To some, the idea of anarchy is a frighting chaotic existence where order and normalcy doesn't have a place, but for the fifteen-thousand who gathered in a Nevada desert for a week, anarchy became a utopian society of boundless possibilities. Anarchy became a process of communication and realization – we all realized that anarchy is the root of creation.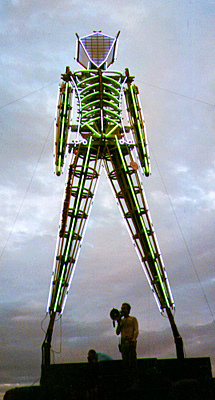 The Burning Man is a festival began ten years ago on a beach in San Francisco – then a very small gathering. I've been told the idea of burning a 'man' represents burning the ego of oneself or the ego of the human race, but it's free for everyone to have their own interpretations. On the last day of the festival, a 50 foot wooden 'man' is burned in an overwhelming display of pyrotechnics.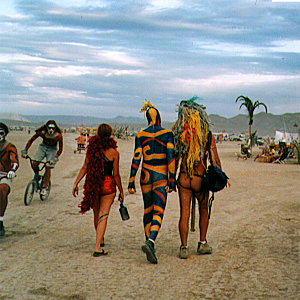 The festival lasts about a week, but for many it lasts for more than a month – with weeks of preparation and construction of installations to burn. Some of my favorite installations where: The Temple of Ishtar – a 80 foot medieval sculpture, a spiral 'ammonite' shaped tent you can walk through until it becomes so small, you have to crawl to reach the end, and a do-decahedron ball with a racing chair suspended in the center, surrounded by speakers – you sit in the chair and people push you around.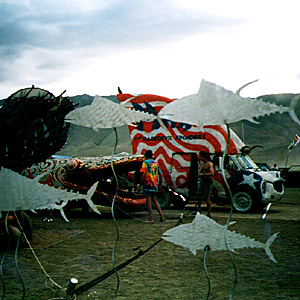 Bizarre and unlikely vehicles are a mainstay of the festival. Some of my favorites from last year returned such as; the motorized couch with matching remote control coffee table, the shark car, and rocket powered go-cart. Some of the new vehicles included; a three row motorized couch with sound system, a motorized Jesus cross – complete with a naked man, a motor bike with a horse saddle and oblong front wheel to simulate a horse gallop (you had to be there), etc.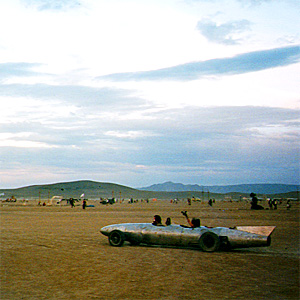 Music is a major part on the festival, with live acts, deejays, and extemporaneous performances.
The dominating music this year was Goa Trance, which took the main stage after the man was burned with Goa Gill and the CCC deejays from San Francisco.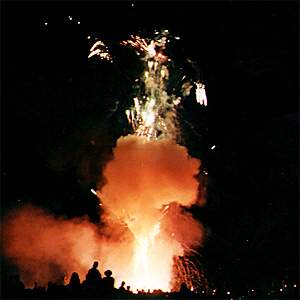 Posted
Aug 27, 1997
Tagged
Share