Live at Mushroom Jazz '93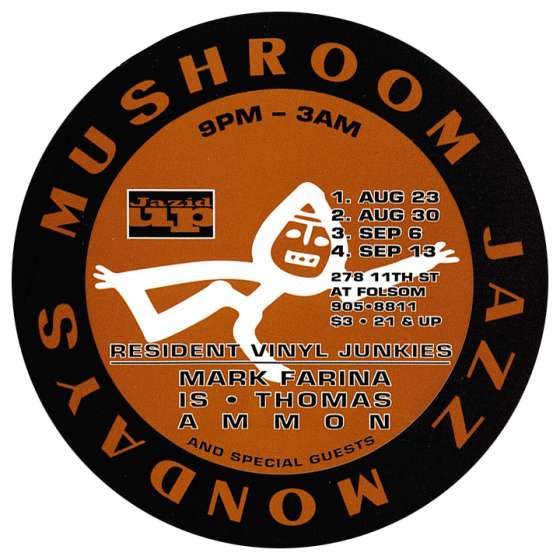 Download
In 1992 I started a little downtempo weekly in San Francisco with Mark Farina, Patty Smith, Eric Kalabacos, and Erik Ross. We called it Jazzid Up!, but quickly became known as Mushroom Jazz because of Mark's mix series. For the three year life of the weekly, I was in DJ heaven as one of the residents — playing my favorite music alongside my favorite DJs. This is a recording from one of the Monday nights. I remember it was the week I bought the debut album from seminal Austrian duo Kruder & Dorfmeister. A week earlier DJ Shadow released In/Flux on Mo Wax. To me, this was a pinnacle of an era!

I made many copies of this mix tape and sent them far and wide as both gift and promotion. 10 years later I could not locate a single copy, including the original master. A mass email requesting a copy finally located one in Seattle with my friend Grey Six. It was a copy of a copy of the original, but I was happy to have found one. Grey would often comment that the song titled "The Sun" was one of his all-time favorite pieces of contemporary music and would help him get through hard moments in his life. Grey died of terminal illness shortly after sending me his copy of this mix tape, so I'd like to dedicate this recording to the memory of Grey Six.
Peace. Love. Harmony.

Tracklist
Pressure Drop - Mindless Game
Emperor's New Clothes - Unsettled Life
Kruder & Dorfmeister - Definition
DJ Shadow - In/Flux
D/Nice - Aria
Moving in the Right Direction - The Sun
DJ Krush - Slow Chase
Cette Face - Always On My Mind
Kruder & Dorfmeister - Original Bedroom Rockers
Tricky - Aftermath
Posted
May 5, 1993
Tagged
Share